Product Description
Other Products List We Manufacture:
Industry Ball Valves
            3 Way Ball Valve
            1 PC Male/Female Thread Ball Valve
            2 PC Male/Female Thread Ball Valve
            3 PC Male/Female Thread Ball Valve
            1 PC Flange/Welding/Union Ball Valve
            2 PC Flange/Welding/Union Ball Valve
            3 PC Flange/Welding/Union Ball Valve
            Floating ball valve
            2 inch ball valve
            motorized ball valve
            electric ball valve
            1 inch ball valve
             ball valve manufacturers
             trunnion mounted ball valve
             gas ball valve
             ss ball valve
             full port ball valve
             trunnion ball valve
             high pressure ball valve
             actuated ball valve
             flanged ball valve
             mini ball valve
             three way ball valve
             pneumatic ball valve
             3 inch ball valve
             4 inch ball valve
             2 piece ball valve
             3 piece ball valve
             water ball valve
             threaded ball valve
             4 way ball valve
             full bore ball valve
             ball valve shut off
             cryogenic ball valve
             segmented ball valve
             stainless ball valve
              2 way ball valve
             metal seated ball valve
             locking ball valve
             pneumatic actuated ball valve
             rising stem ball valve 
             3 way flanged ball valve
             3 way ss ball valve
             1 ball valve price
             4 inch stainless steel ball valve
             trunnion ball valve manufacturers
             locking ball valve 
             spring return ball valve 
             ball valve flange type
          2.Industry Pipe Fittings
            welded/thread Elbow
           Tee
            Cross
            Cap
            Pipe Hanger
            Hose Joint
            Unions
            Quick connector
            Quick coupling
            Ferrule
            Reducer
            Socket
            Bend
            Plug
            Bushing
            Nipple
            Y-Tee
            Y-Shaped
            Lateral-Tee
            Flange
          3 .Sanitary valve
            Sanitary Butterfly Valves
            Sanitary Check Valves
            Sanitary Ball Valvess
            Sanitary Reversal Valve
            Sanitary Diaphragm Valves
            Sanitary Sample Valves
            Sanitary Safety Valves
            Sanitary Control Valves
            Sanitary Relief Pressure Valves
        4. Sanitary Pipe Fittings
            Sanitary Elbow
            Sanitary TeeSanitary Reducer
            Sanitary Cross
            Sanitary Triclamp Ferrule
            Sanitary Cap
            Sanitary Pipe Hanger
            Sanitary Tank Cleaning Ball
            Sanitary Hose Joint
            Sanitary Unions
            Sanitary Sight Glass
            Sanitary Strainer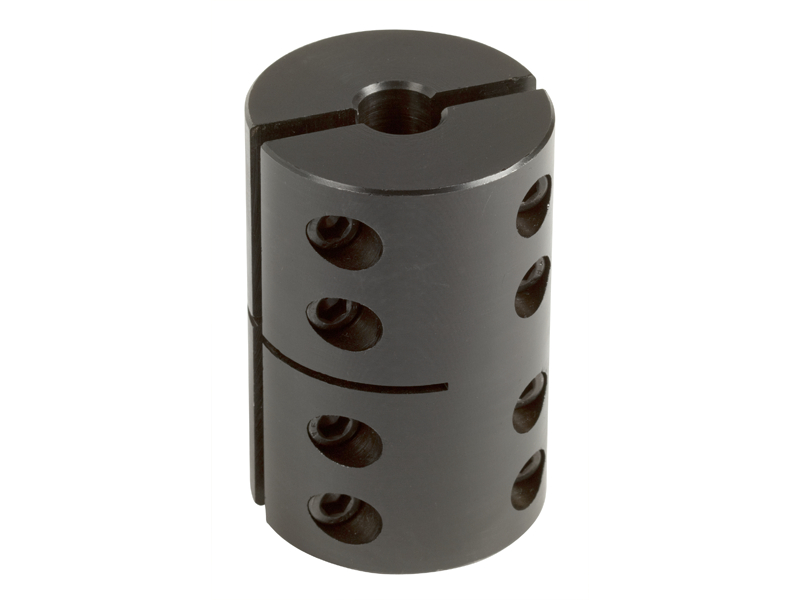 What are the Torque and Speed Limits of Clamp Couplings in Various Applications?
The torque and speed limits of clamp couplings vary depending on their design, material, and application. Generally, clamp couplings are suitable for a wide range of torque and speed requirements in various mechanical systems. Here are some considerations:
Torque Limits:
Clamp couplings can handle a broad range of torque values, making them suitable for low, medium, and high torque applications. The torque capacity is influenced by factors such as the material and size of the coupling, as well as the clamping force applied to the shaft.
It is crucial to select a clamp coupling that can handle the maximum torque generated in the system during operation. Oversizing the coupling ensures it can safely transmit the required torque without reaching its limits, reducing the risk of premature failure.
Speed Limits:
Similar to torque limits, the speed limits of clamp couplings are influenced by their design and material. In high-speed applications, factors like centrifugal forces and resonance become significant considerations.
Clamp couplings made from high-strength materials like stainless steel or alloy steel can handle higher speeds with minimal risk of deformation or failure. Additionally, precision machining and balancing of the coupling help reduce vibration and maintain stability at elevated speeds.
Application-Specific Considerations:
When using clamp couplings in specific applications, factors like shock loads, reversing loads, and misalignment should be accounted for. These dynamic forces can impact the overall performance and durability of the coupling.
It is essential to consult the manufacturer's specifications and guidelines for torque and speed ratings. Additionally, engineering calculations and simulations can help determine the most suitable clamp coupling for a particular application.
Professional Advice:
If you are unsure about the torque and speed limits of clamp couplings for your specific application, it is advisable to seek professional advice from coupling manufacturers or engineering experts. They can provide valuable insights and recommend the most appropriate coupling for your requirements, ensuring reliable and efficient power transmission in your mechanical system.

Impact of Clamp Coupling Design on Performance in Heavy-Duty Applications
The design of a clamp coupling plays a crucial role in determining its performance, especially in heavy-duty applications. Here are some key design factors and their impact:
Material Selection: The choice of material affects the strength, durability, and resistance to wear and corrosion. In heavy-duty applications, steel clamp couplings are often preferred due to their high tensile strength and ability to withstand heavy loads and torque.
Torsional Rigidity: Heavy-duty applications often involve transmitting high levels of torque. A clamp coupling with higher torsional rigidity will maintain the connection between shafts more effectively, minimizing backlash and ensuring accurate power transmission.
Hub Design: The hub of the clamp coupling should have a robust and precise design to provide a secure grip on the shafts. In heavy-duty applications, keyless and multiple screw designs are commonly used to distribute clamping forces evenly and prevent slippage.
Number of Screws: The number of screws used to secure the clamp coupling to the shafts can impact its holding power. More screws distributed around the circumference can provide better balance and prevent distortion under heavy loads.
Clamping Force: The clamping force applied by the coupling affects the torque transmission capabilities. In heavy-duty applications, it is crucial to ensure that the clamping force is sufficient to prevent slippage between the coupling and the shafts.
Surface Treatment: The surface of the clamp coupling can be treated to enhance its resistance to corrosion, wear, and fatigue. Surface treatments like coating or plating can significantly improve the coupling's performance and longevity in challenging environments.
Alignment: Proper alignment during installation is vital to prevent premature wear and excessive stress on the coupling. In heavy-duty applications, precision alignment using alignment tools or laser systems is recommended to maintain optimal performance and prevent premature failure.
Conclusion: In heavy-duty applications, selecting a clamp coupling with the right material, torsional rigidity, hub design, number of screws, and clamping force is critical to ensuring reliable and efficient power transmission. Proper installation, regular maintenance, and adherence to manufacturer's guidelines will further enhance the performance and longevity of the clamp coupling in heavy-duty applications.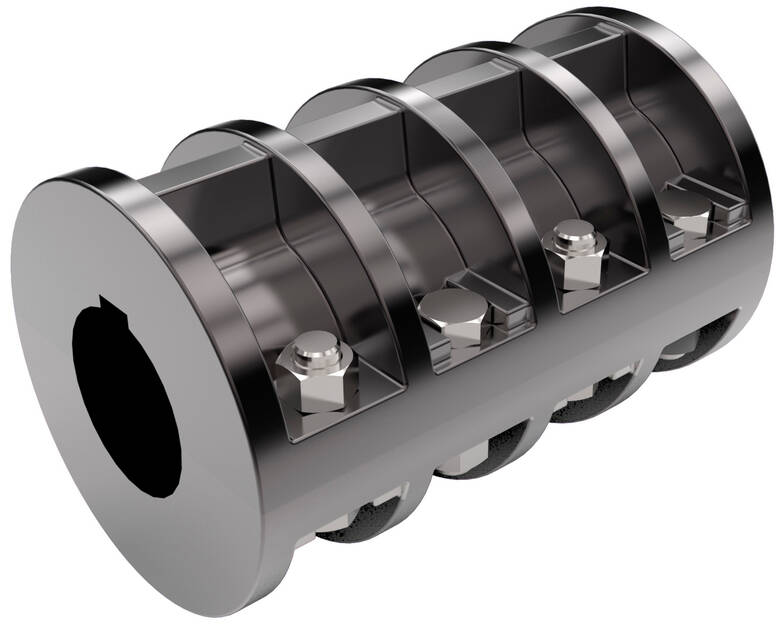 Handling Misalignment with Clamp Couplings
Yes, clamp couplings are designed to handle certain degrees of misalignment between shafts effectively. They can accommodate both angular and parallel misalignments, making them versatile for various mechanical systems.
The design of clamp couplings allows for a certain degree of flexibility and forgiveness in the coupling's connection. When the shafts are not perfectly aligned due to angular or parallel misalignment, the clamp coupling can compensate for these variations.
The main factors contributing to the clamp coupling's ability to handle misalignment are:
Flexible Material: Clamp couplings are often made of materials like aluminum, stainless steel, or other alloys with some elasticity. This flexibility enables them to absorb and compensate for minor misalignments.
Split Design: Clamp couplings usually have a split design with one or more screws or bolts that can be tightened to secure the coupling around the shafts. This design allows for easy installation and adjustment, making it possible to accommodate slight misalignments during assembly.
Tightening Mechanism: The screws or bolts used to fasten the clamp coupling can be tightened to the appropriate torque, providing a secure connection while still allowing for a certain amount of movement to handle misalignment.
However, it's important to note that clamp couplings have limitations when it comes to misalignment. Excessive misalignment can lead to increased wear on the coupling components and shafts, reducing the coupling's lifespan and potentially causing failure. Therefore, it's essential to ensure that the misalignment does not exceed the coupling's specified limits.
For more significant misalignments or applications with constant large misalignments, flexible couplings like elastomeric couplings or gear couplings may be more suitable. It's crucial to select the appropriate coupling type based on the specific misalignment requirements of the mechanical system.
In conclusion, while clamp couplings can handle certain degrees of misalignment effectively, it is essential to stay within the recommended misalignment limits to maintain the coupling's performance and longevity.



editor by CX 2023-08-15