Product Description
Plastic Pipe Repair Clamp
Applied to connection of various kinds of metal pipes and composite materials of pipelines. Allowable angular deflection but does not provide restraint. It can provide safe, fast and steady connection and very good effect of anti-vibration and noise reduction, as well as function of distance compensation in pipe ends. Easy to be installed and disassembled and reusable.
 
Technical Parameters
 
Industry
WP
Dimensions
Cmax
L1
L2
D
H
Screws
Screw
Torque
(bar)
(mm)
(mm)
(mm)
approx(mm)
approx(mm)
M
Nm
32
3
57
–
35
50
6
15
32
3
57
–
50
70
6
15
32
3
57
–
50
70
6
15
32
3
57
–
55
75
6
15
32
3
57
–
55
75
6
15
32
5
57
–
55
75
6
15
32
5
57
–
65
85
6
15
32
5
57
–
65
85
6
15
32
5
57
100
70
90
6
15
32
5
57
100
70
90
8
30
32
5
57
100
80
100
8
30
32
5
80
139
85
105
8
30
32
5
80
139
85
105
8
30
28
5
80
139
100
120
8
30
28
5
80
139
100
120
8
30
28
5
107
203
110
130
10
50
28
5
107
203
130
150
10
50
28
5
107
203
130
150
10
50
28
5
107
203
135
155
10
50
28
5
107
203
140
160
10
50
28
5
107
203
150
185
10
50
28
5
107
203
160
190
10
50
28
5
116
203
165
195
12
80
24
5
116
203
185
215
12
80
24
5
116
203
190
215
12
80
24
5
116
203
195
225
12
80
24
5
116
203
195
225
12
80
16
10
155
255
240
270
14
100
16
10
155
255
250
280
14
100
16
10
155
255
285
315
14
100
16
10
155
255
305
335
14
100
14
10
155
255
340
375
14
100
14
10
155
255
360
390
14
100
14
10
155
255
385
420
14
100
14
10
155
255
410
440
14
100
Dimentions:
DN 21.7 mm – DN 2600 mm
Flexible Couplings can be used to repair the following pipe types:
Steel
GRP
HDPE-100
PVC
PIG Iron
Ductile Font Iron
Asbestos etc.
every kind of pipes are suitable to use Pipe Couplings.
Material specification:
Body:
AISI 304 Stainless Steel
AISI 316L Stainless Steel
AISI 1571 Galv. Steel
Sealing Sleeve:
EPDM (Drinkable nwater, waste water,air, solids and chemical products )
*NBR (Water, gas,air, oil, fuel and other hydrocarbons)
Vacuum Support Part:
AISI 304 Stainless Steel
AISI 316L Stainless Steel
Bolts & Stem:
Stem:Steel coated Dacromat500
ISI 316L Stainless Steel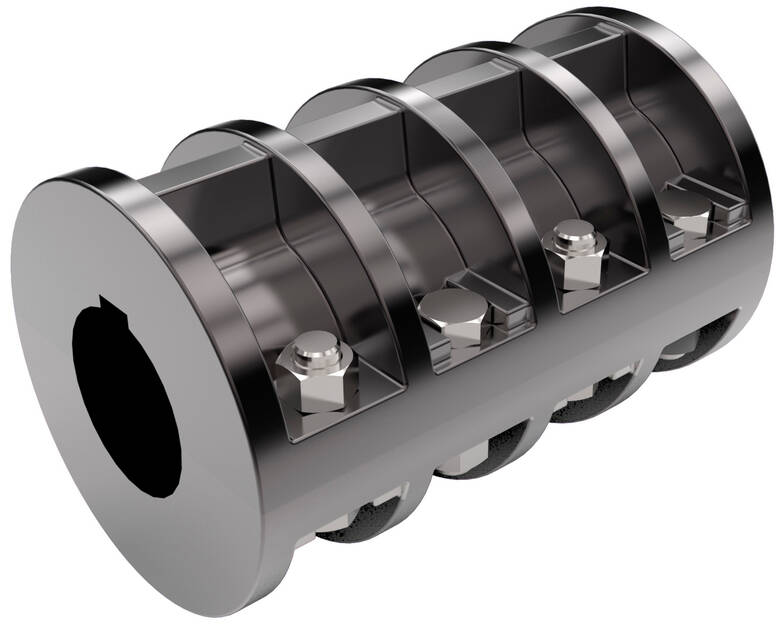 What Industries Commonly Use Clamp Couplings and Why?
Clamp couplings are widely used in various industries due to their versatility, ease of installation, and ability to accommodate different shaft sizes and misalignments. Some of the industries where clamp couplings are commonly used include:
Manufacturing: In manufacturing industries, clamp couplings are commonly employed in conveyor systems, machine tools, and material handling equipment. They provide a reliable and flexible connection between shafts, allowing for smooth power transmission and easy maintenance.
Agriculture: Farm machinery and equipment often use clamp couplings to connect power take-off shafts, ensuring efficient power transfer from the tractor to various implements like mowers, balers, and harvesters.
Food and Beverage: The food and beverage industry requires couplings that are easy to clean and maintain. Stainless steel clamp couplings are commonly used in food processing equipment due to their corrosion resistance and hygienic design.
Packaging: Packaging machinery often uses clamp couplings to connect rotating components, such as rollers and conveyors, ensuring precise and synchronized movement during the packaging process.
Oil and Gas: In the oil and gas industry, clamp couplings are used in various applications, including pumps, compressors, and drilling equipment. Stainless steel clamp couplings are favored in offshore and corrosive environments.
Automotive: In automotive manufacturing, clamp couplings find applications in power transmission systems, steering columns, and drivetrain components.
Marine: The marine industry often employs clamp couplings in propulsion systems and auxiliary machinery, especially when corrosion resistance and reliability are critical.
Pharmaceutical: Pharmaceutical manufacturing equipment requires couplings that meet stringent hygiene standards. Stainless steel clamp couplings are suitable for pharmaceutical applications due to their cleanability and resistance to contamination.
Mining: Mining machinery relies on robust and reliable couplings to withstand heavy loads and harsh operating conditions. Clamp couplings are commonly used in conveyors, crushers, and other mining equipment.
The widespread use of clamp couplings across industries can be attributed to their ability to provide a secure and backlash-free connection between shafts, accommodate misalignment, and handle varying torque and speed requirements. Additionally, their simple design and ease of maintenance make them a popular choice in numerous industrial applications.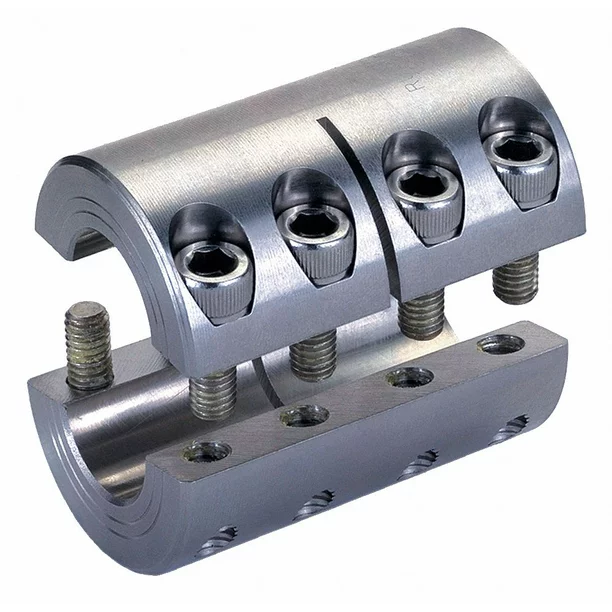 Potential Causes of Failure in Clamp Couplings and Prevention
While clamp couplings are robust and reliable, certain factors can lead to failure if not addressed properly. Here are some potential causes of failure and the corresponding prevention measures:
Insufficient Torque: If the coupling is not tightened to the recommended torque, it may slip or come loose during operation. To prevent this, always follow the manufacturer's torque specifications and use a torque wrench during installation.
Material Fatigue: Repeated load cycles and excessive vibration can lead to material fatigue and eventual failure. Choosing high-quality materials and performing regular inspections can help detect fatigue and replace the coupling before failure occurs.
Corrosion: In corrosive environments, the coupling's material may degrade over time, compromising its strength. Using stainless steel or other corrosion-resistant materials can prevent this issue.
Improper Alignment: Misalignment between shafts can put undue stress on the coupling, leading to premature failure. Properly align the shafts during installation to avoid this problem.
Overloading: Exceeding the maximum torque or speed limits specified by the manufacturer can cause the coupling to fail. Stay within the recommended operating parameters to prevent overloading.
Temperature Extremes: Extreme temperatures can affect the material properties and cause the coupling to become brittle or lose its integrity. Select a coupling rated for the operating temperature range of the application.
Poor Maintenance: Neglecting regular maintenance can lead to undetected wear, damage, or contamination, which may ultimately result in failure. Implement a proactive maintenance schedule and inspect the coupling regularly.
Foreign Object Debris (FOD): Foreign particles or debris caught between the coupling components can lead to uneven loads and wear. Keep the coupling and its surroundings clean to avoid FOD-related issues.
Improper Installation: Incorrectly installing the coupling, such as using incorrect fasteners or not following the manufacturer's guidelines, can compromise its performance and durability. Always refer to the installation instructions and seek professional help if needed.
Environmental Factors: Consider the specific environmental conditions of the application, such as humidity, chemicals, or abrasive substances, and select a coupling that can withstand these conditions.
By understanding and addressing these potential causes of failure, users can ensure the longevity and reliable performance of clamp couplings in their mechanical systems.
What is a Clamp Coupling and How Does it Work?
A clamp coupling is a type of mechanical coupling used to connect two shafts together to transmit torque and rotational motion between them. It is a simple and effective way of joining shafts in various mechanical systems. The main components of a clamp coupling typically include two hubs and a center section.
Working Principle:
The clamp coupling works on the principle of frictional force and mechanical interference fit. Here's how it functions:
Hub Assembly: Each end of the shaft has a hub, which is a cylindrical component with a bored hole that matches the shaft diameter. The hubs may have keyways or splines to provide additional torque transmission.
Center Section: The center section of the coupling sits between the two hubs. It is often a split cylindrical sleeve with threaded holes on its outer surface.
Clamping: To assemble the clamp coupling, the two hubs are placed on the respective shafts, and the center section is inserted between them. Then, bolts are inserted through the holes in the hubs and screwed into the threaded holes of the center section. As the bolts are tightened, the center section is drawn inward, creating a compressive force on the shafts and the hubs, thus firmly holding them together.
Frictional Connection: The clamping force between the center section and the shafts creates a frictional connection. This frictional force allows the coupling to transmit torque and rotational motion from one shaft to the other.
Advantages:
Clamp couplings offer several advantages:
Easy and quick installation, requiring minimal tools and no special skills.
Simple design and cost-effective manufacturing.
High torque transmission capacity, making them suitable for various industrial applications.
Zero backlash, ensuring accurate and precise motion transfer.
Can accommodate different shaft sizes and materials, providing flexibility in design.
Applications:
Clamp couplings find application in a wide range of industries and mechanical systems, including:
Power transmission in industrial machinery and equipment.
Robotics and automation systems.
Printing and packaging machines.
Material handling equipment.
Pumps and compressors.
Conveyor systems.
Overall, clamp couplings are a reliable and versatile solution for connecting rotating shafts and transferring power in various mechanical setups.



editor by CX 2023-08-17