Product Description
SS316 Sanitary Fitting Hose End Tri-Clamp food grade Coupling
The standard of tri clamp fitting is 3A or ISO. Material is stainless steel AISI 316 / 1.4408. Tri clamp fitting is also called tri clover.  It is connected quickly by clamping tightly, or welding. Working pressure is 250 Psi. Materials are made of acid and alkali resistant stainless steel, and the joint surface is processed precisely. The sealing parts are made of food grade silicone rubber or polytetrafluoroethylene gasket, which is up to food standard.  It is widely used in industries of food, beverage, dairy, pharmaceutical, beer, biomedical cosmetics, etc.
Sanitary Fittings Standard:  3A,ISO,DIN,SMS,RJT,IDF,BS,JIS
Material: Stainless Steel 316L  / 304
Gasket:silicon rubber, EPDM, PTFE
SIZE: 1/4″ – 4″ (DN6 – DN100)
working pressure: 250Psi
Application: widely used in beverage, dairy, food, pharmacy, beer, biomedical cosmetics and other industries.
Advantages: corrosion resistance, health, prevent liquid retention, leak proof, safe and reliable use.
Our Advantage
We are experienced as we have been in this industry as a manufacturer for more than 10 years. Both of quality and service are highly guaranteed. Absolutely prompt delivery. We can produce according to specific drawings from customers. Welcome OEM/ODM project. Strict control on quality. High efficient and well trained sale service team.  ISO9001, CE and SGS certified.
FAQ
1.Q: Are you a producer or trading company?
A: We are an experienced manufacturer. We own production line and kinds of machines.  
2. Can you make our specific logo on the part?
Yes please provide me your logo and we will make your logo on the part.
3. Can you manufacture products according to my drawings?
Yes we can manufacturer according to client's drawings if drawings or samples are available. We are experienced enough to make new tools.
4. Q: Can I get some samples?
A: We are honored to offer you our samples. Normally it is for free like 3-5 pcs. It is charged if the samples are more than 5 pcs. Clients bear the freight cost.
5. Q: How many days do you need to finish an order?
A: Normally it takes about 30 days to finish the order. It takes more time around CHINAMFG season, or if the order involves many kinds of different products.  
6. what kind of rubber washer do you apply to camlock couplings?
Normally we use NBR gasket.
product-list-1.html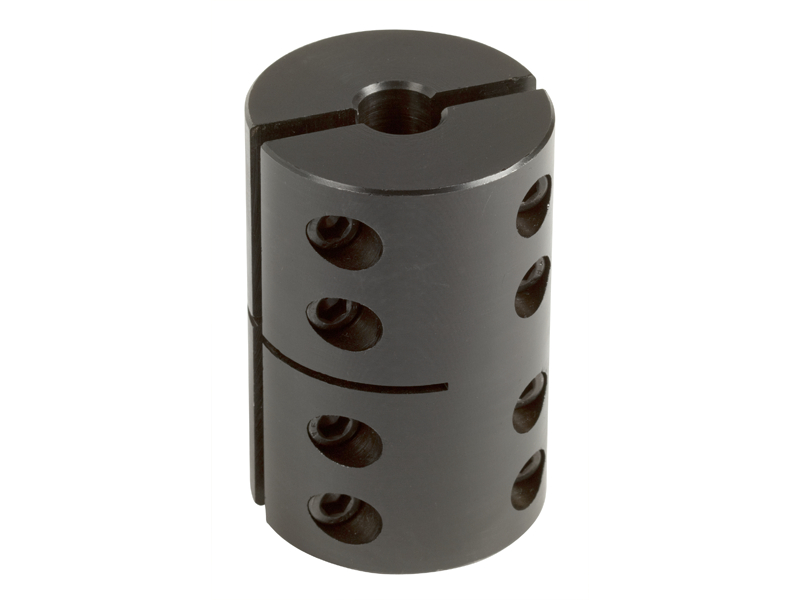 What are the Torque and Speed Limits of Clamp Couplings in Various Applications?
The torque and speed limits of clamp couplings vary depending on their design, material, and application. Generally, clamp couplings are suitable for a wide range of torque and speed requirements in various mechanical systems. Here are some considerations:
Torque Limits:
Clamp couplings can handle a broad range of torque values, making them suitable for low, medium, and high torque applications. The torque capacity is influenced by factors such as the material and size of the coupling, as well as the clamping force applied to the shaft.
It is crucial to select a clamp coupling that can handle the maximum torque generated in the system during operation. Oversizing the coupling ensures it can safely transmit the required torque without reaching its limits, reducing the risk of premature failure.
Speed Limits:
Similar to torque limits, the speed limits of clamp couplings are influenced by their design and material. In high-speed applications, factors like centrifugal forces and resonance become significant considerations.
Clamp couplings made from high-strength materials like stainless steel or alloy steel can handle higher speeds with minimal risk of deformation or failure. Additionally, precision machining and balancing of the coupling help reduce vibration and maintain stability at elevated speeds.
Application-Specific Considerations:
When using clamp couplings in specific applications, factors like shock loads, reversing loads, and misalignment should be accounted for. These dynamic forces can impact the overall performance and durability of the coupling.
It is essential to consult the manufacturer's specifications and guidelines for torque and speed ratings. Additionally, engineering calculations and simulations can help determine the most suitable clamp coupling for a particular application.
Professional Advice:
If you are unsure about the torque and speed limits of clamp couplings for your specific application, it is advisable to seek professional advice from coupling manufacturers or engineering experts. They can provide valuable insights and recommend the most appropriate coupling for your requirements, ensuring reliable and efficient power transmission in your mechanical system.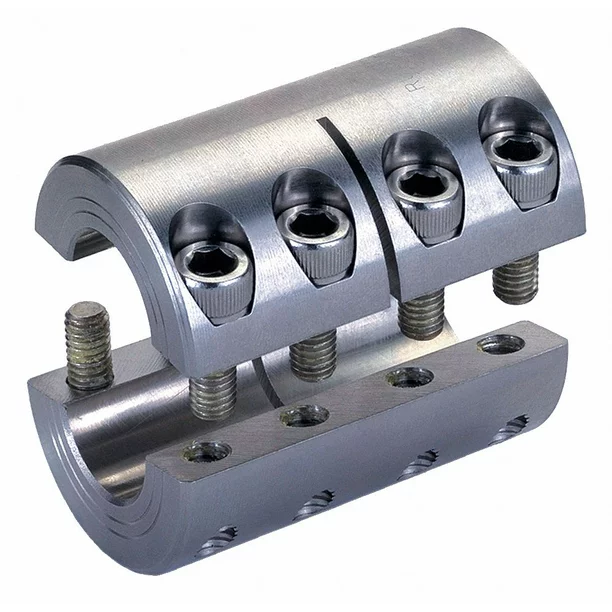 Potential Causes of Failure in Clamp Couplings and Prevention
While clamp couplings are robust and reliable, certain factors can lead to failure if not addressed properly. Here are some potential causes of failure and the corresponding prevention measures:
Insufficient Torque: If the coupling is not tightened to the recommended torque, it may slip or come loose during operation. To prevent this, always follow the manufacturer's torque specifications and use a torque wrench during installation.
Material Fatigue: Repeated load cycles and excessive vibration can lead to material fatigue and eventual failure. Choosing high-quality materials and performing regular inspections can help detect fatigue and replace the coupling before failure occurs.
Corrosion: In corrosive environments, the coupling's material may degrade over time, compromising its strength. Using stainless steel or other corrosion-resistant materials can prevent this issue.
Improper Alignment: Misalignment between shafts can put undue stress on the coupling, leading to premature failure. Properly align the shafts during installation to avoid this problem.
Overloading: Exceeding the maximum torque or speed limits specified by the manufacturer can cause the coupling to fail. Stay within the recommended operating parameters to prevent overloading.
Temperature Extremes: Extreme temperatures can affect the material properties and cause the coupling to become brittle or lose its integrity. Select a coupling rated for the operating temperature range of the application.
Poor Maintenance: Neglecting regular maintenance can lead to undetected wear, damage, or contamination, which may ultimately result in failure. Implement a proactive maintenance schedule and inspect the coupling regularly.
Foreign Object Debris (FOD): Foreign particles or debris caught between the coupling components can lead to uneven loads and wear. Keep the coupling and its surroundings clean to avoid FOD-related issues.
Improper Installation: Incorrectly installing the coupling, such as using incorrect fasteners or not following the manufacturer's guidelines, can compromise its performance and durability. Always refer to the installation instructions and seek professional help if needed.
Environmental Factors: Consider the specific environmental conditions of the application, such as humidity, chemicals, or abrasive substances, and select a coupling that can withstand these conditions.
By understanding and addressing these potential causes of failure, users can ensure the longevity and reliable performance of clamp couplings in their mechanical systems.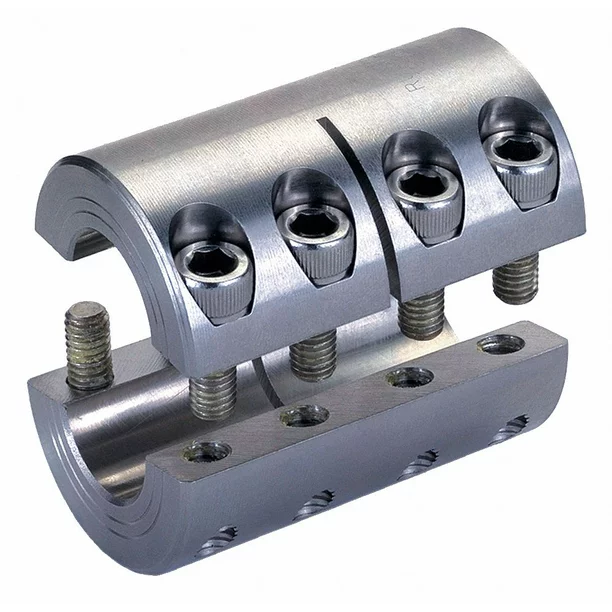 Different Types of Clamp Couplings
Clamp couplings come in various designs to accommodate different shaft sizes, torque levels, and application requirements. Some common types of clamp couplings available in the market include:
Two-Piece Clamp Couplings: This type of coupling consists of two separate hubs that are connected by a clamp. The clamp is tightened to secure the two hubs onto the shafts, creating a rigid connection. Two-piece clamp couplings are easy to install and suitable for applications with moderate torque and misalignment.
One-Piece Clamp Couplings: As the name suggests, one-piece clamp couplings have a single-piece construction, which simplifies the installation process. They provide a compact and lightweight solution for low to medium torque applications.
Double-Walled Clamp Couplings: These couplings have a unique double-walled design, providing better torque transmission capabilities and torsional rigidity. They are ideal for applications with high torque and precise positioning requirements.
Set Screw Clamp Couplings: Set screw clamp couplings use set screws to secure the coupling onto the shaft. While they are simple and cost-effective, they may not handle high torque and misalignment as effectively as other types.
Wedge Clamp Couplings: Wedge clamp couplings use a wedge-shaped collar to create a tight grip on the shaft. They offer excellent torque transmission and axial holding power, making them suitable for heavy-duty applications.
Keyless Clamp Couplings: Keyless clamp couplings eliminate the need for keyways and key connection. Instead, they use compression to secure the coupling to the shaft, providing high torque capacity and easy installation.
Hydraulic Clamp Couplings: Hydraulic clamp couplings use hydraulic pressure to tighten the clamp, ensuring uniform pressure distribution and secure shaft connections. They are commonly used in high-power and critical applications.
Clamp Couplings with Tapered Bushings: These couplings feature tapered bushings that provide a tight fit on the shaft and enhance torque transmission capabilities. They are suitable for heavy-duty applications and high misalignment conditions.
The selection of the appropriate clamp coupling depends on the specific requirements of the mechanical system, such as torque levels, shaft sizes, misalignment allowances, and operating conditions. Consulting with coupling manufacturers or engineering experts can help in choosing the right type of clamp coupling for a particular application.



editor by CX 2023-10-09