Product Description
BS En 877 pipe clamps Kombi kralle coupling krale unigrip kralle DN50 DN100 DN150 DN200 
1. our products are made strictly according to EN877 standard.
2. size range from DN50 to DN300, with 3m/pc.
3. painting: inside epoxy paint in color yellow with thickness above 120 micron, outside paint in color red with thickness above 60 micron. If you have special requirement, please contact with us, as we could also make the painting according to your requirement.
4. length/pc: 3m
5. delivery time: 7-15 days, depend on your quantity.
6. application: used for waste water/rain water/ventilation.
7. advantage: avoid pollution, noise resistant.
8. payment term: T/T, L/C, or D/P.
9. production capacity: 2000tons/ month
10. we could do the third party inspection at famous organizations such as SGS, BV, etc.
11. by now we have shipped our cast iron pipes to many countries such as Germany,Italy,UK,Hongkong,Russia,Turkey,Sweden,Norway,Singapore,the Middle East,etc.
DN
External diameter DE(mm)
Wall thickness(mm)
Unit weight
Length
Nominal value
Tolerance
Nominal value
Minimum value
kg/pc
(mm)
40
48
+2
-1
3.0
2.5
12.70
3000+/-20
50
58
3.5
3.0
13.00
70
78
3.5
3.0
17.70
75/80
83
3.5
3.0
18.90
100
110
3.5
3.0
25.20
125
135
+2
-2
4.0
3.5
35.40
150
160
4.0
3.5
42.20
200
210
+2.5
-2.5
5.0
4.0
69.30
250
274
5.5
4.5
99.80
300
326
6.0
5.0
129.70
If any inquiry , Please feel free  to contact with me 

Can Clamp Couplings Be Used in High-Temperature or Corrosive Environments?
Yes, clamp couplings are designed to be versatile and can be used in a wide range of environments, including high-temperature and corrosive conditions. However, their suitability depends on the specific material and coating used in the construction of the coupling.
In high-temperature environments, clamp couplings made from materials such as stainless steel or high-temperature alloys are commonly used. These materials have excellent heat resistance and can withstand elevated temperatures without losing their structural integrity. It is essential to choose a clamp coupling with a temperature rating that exceeds the operating temperature of the application to ensure safe and reliable performance.
In corrosive environments where exposure to chemicals, moisture, or other corrosive substances is a concern, selecting a corrosion-resistant material is critical. Stainless steel clamp couplings, particularly those made from 316-grade stainless steel, are widely used in such conditions due to their superior corrosion resistance. For more aggressive corrosive environments, special coatings or surface treatments can be applied to further enhance the coupling's resistance to corrosion.
It is essential to consider the specific requirements of the application when selecting a clamp coupling for use in high-temperature or corrosive environments. Factors such as temperature, humidity, exposure to chemicals, and the presence of abrasive substances should be taken into account. Consulting with coupling manufacturers or industry experts can help in choosing the most suitable clamp coupling for the intended application.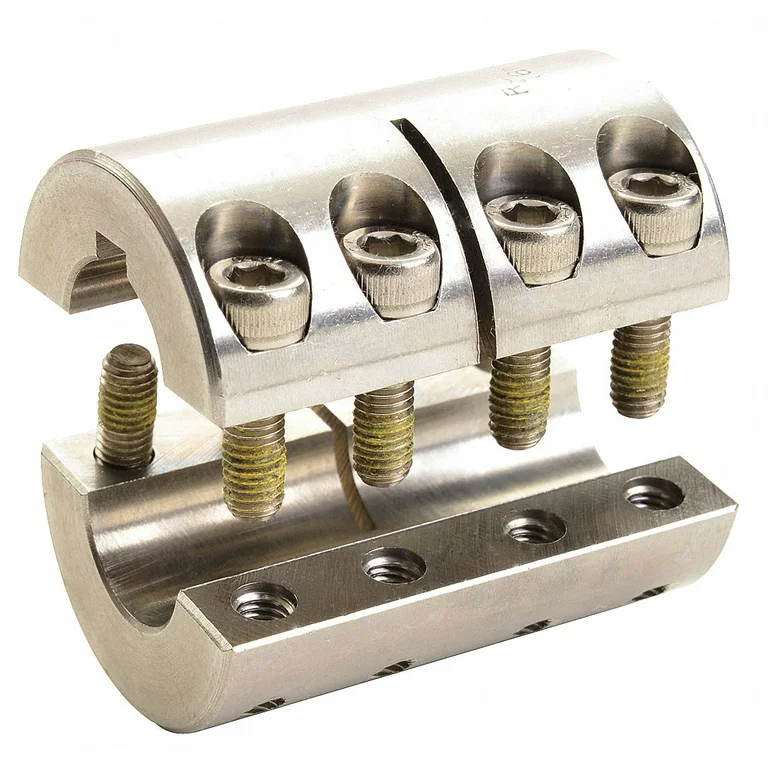 Differences between Clamp Couplings Made from Different Materials
Clamp couplings can be manufactured from various materials, each offering unique characteristics and suitability for different applications. Here are the main differences between clamp couplings made from aluminum, steel, and plastic:
Aluminum Clamp Couplings: Aluminum clamp couplings are lightweight and offer excellent corrosion resistance. They are often used in applications where weight reduction is crucial, such as in aerospace and automotive industries. However, aluminum has lower tensile strength compared to steel, making it less suitable for heavy-duty or high-torque applications.
Steel Clamp Couplings: Steel clamp couplings are known for their strength and durability. They can handle higher torque loads and are well-suited for heavy machinery, industrial equipment, and power transmission applications. Steel couplings are available in various grades, and surface treatments can further enhance their corrosion resistance.
Plastic Clamp Couplings: Plastic clamp couplings are lightweight and cost-effective. They are commonly used in applications where weight is a concern, and the torque requirements are relatively low. Plastic couplings may offer good chemical resistance and electrical insulation properties, but they may not be as durable as metal couplings and are not suitable for high-load or high-temperature applications.
Considerations: When selecting a clamp coupling material, consider the specific requirements of your application:
Load and Torque: Choose a material that can handle the expected load and torque of your application without exceeding the material's limitations.
Environment: Consider the operating environment, including exposure to chemicals, moisture, and temperature fluctuations, to ensure the chosen material can withstand these conditions.
Cost and Weight: Balance the cost-effectiveness and weight-saving benefits of materials like aluminum and plastic against the strength and durability of steel.
Ultimately, the material selection for clamp couplings should be based on the specific demands of the application to ensure optimal performance and longevity.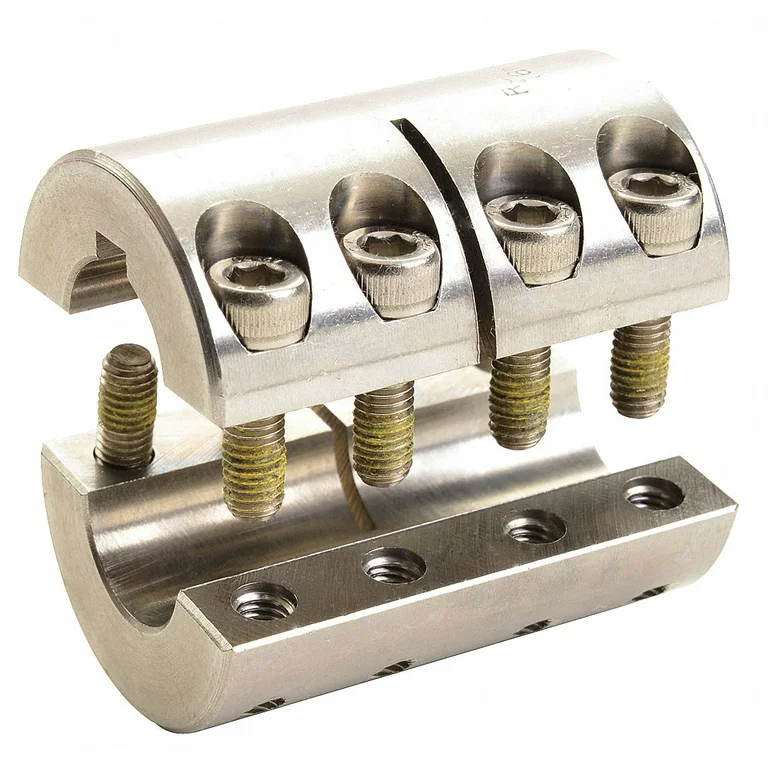 Advantages of Using a Clamp Coupling
A clamp coupling offers several advantages compared to other types of couplings, making it a popular choice in various mechanical systems:
Easy Installation: Clamp couplings are simple to install and require minimal tools and expertise. The design allows for quick assembly and disassembly, making maintenance and shaft replacement convenient.
Cost-Effective: With a straightforward design and fewer components, clamp couplings are cost-effective to manufacture and purchase.
High Torque Transmission: Clamp couplings can handle high torque loads, making them suitable for heavy-duty applications in industries like manufacturing, mining, and construction.
Zero Backlash: The clamping mechanism ensures a tight fit between the shafts and the hubs, resulting in zero backlash. This feature is vital for applications that require accurate and precise motion transfer.
Flexibility: Clamp couplings can accommodate different shaft sizes and materials, providing flexibility in system design and shaft compatibility.
Compact Design: The compact and lightweight design of clamp couplings makes them ideal for applications with space constraints.
No Lubrication Needed: Unlike some other couplings, clamp couplings do not require lubrication, reducing maintenance requirements and eliminating the risk of leakage or contamination in certain environments.
High Misalignment Tolerance: Clamp couplings can handle moderate levels of angular, parallel, and axial misalignment, ensuring reliable operation even when shafts are not perfectly aligned.
Reduced Downtime: The ease of installation and maintenance of clamp couplings contributes to reduced downtime during equipment repairs or replacements.
Due to these advantages, clamp couplings are widely used in various industries and mechanical setups for their simplicity, reliability, and cost-effectiveness in transmitting torque and rotational motion between shafts.



editor by CX 2023-08-21