Product Description
GROOVED FLEXIBLE COUPLINGS PRODUCTS SERISE
Detailed Photos
Product Description
STAINLESS STEEL GROOVED FLEXIBLE COUPLINGS SPECIFICATION
MATERIAL SPECIFICATIONS
Housing : Stainless steel 304(CF8) or 316L(CF3M)
Rubber Gasket : Standard gasket is EPDM(Ethylene-Propylene-Diene Monomer), the range of working temperature is -50ºC-150ºC,using for cold water,hot water and rare alkaline chemical products.
Bolt&Nuts : Stainless steel bolts&nuts according to international standard models of carriage bolts and flange nuts.Nut is SS304 material.
According to ASTM A743 standard for housing material
–Type 304 to ASTM A743 CF8(304)
–Type 316L to ASTM A743 CF3M(316L)
Monitoring device
Our Advantages
Housing:
Stainless steel is used as raw material with good corrosion resistance. And there is the natures which is high strength, good toughness and good mechanical properties. According to the precision casting process, the precision of the clamping size is guaranteed.The material has tensile strength which is not less than 600 MPA and the extension is not less than 15%. withstands high pressure and high impact of pipeline by several disadvantage factors.
Gasket :
The gasket seal with special C-shaped design, that is perfect matching with pipeline dimension in order to achieve working pressure.The gasket is tightener while further pressed in order to achieve sealing efficiency.when the Meanwhile, the imported raw material will also be guaranteed the mechanical properties.
Scope of application
ZheJiang Morui Environment&Technology Co., Ltd. (refer to ZheJiang MR), is professional company which is committed to become processing manufacturer of pipeline system solutions. Located in the ZheJiang High-tech Zone as headquarter. There are several branches in ZheJiang , ZheJiang and ZheJiang provinces.
We are not only processing manufacturer, but also it has the own sales and service network. We are able to grasp accurately the clients' "pain points" that the clients faced. And provide the proper solutions immediately. Because we have the excellent team who are focusing on follow-up service.
The ZheJiang MR company's products have been widely used in the field of MF, UF and RO system, sewage water system, water supply and drainage, high-pressure desalination system, such as garbage infiltration liquid, electronic, chemical industry, air-conditioning and so on. Our products are compliance with international first-class standard(GB, ASTM, DIN and JIS). Meanwhile providing the professional before-sale and after-sale service to our clients.
Certifications
FAQ
Qn1: Are you the factory or trading company?
Ans: We are the factory of manufacturing flexible grooved couplings. There are 2 different types ,including plastic and stainless steel. They are mainly applicable in RO,UF and NF system.
The size is from 1″ to 8″, which is satisfied with water treatment.
Qn2:where is your factory located?
Ans:Our factory is located in B6-2,South Park,Guangda Green Industrial Zone,Xihu (West Lake) Dis. District,ZheJiang ,China.  
Qns3: How about the working pressure of grooved couplings?
Ans: For plastic grooved couplings, normally are used in UF system. The Working pressure is up to 10bar with small size. For the larger size,up to 6bar,such like 2-1/2″ and 3″.
For stainless steel, there are 4 steps of working pressure. Low pressure(300psi),medium pressure(600psi), high pressure(1000psi) and ultra-high pressure(1500psi).
Qn4: Can I have sample provided?
Ans: Yes, we can provide sample.
Qn5: When can we get sample?
Ans: For standardized components with stock in hand, we're ready for preparing within 2 working days.
Qn6: How can you ensure the quality of finished products?
Ans: There are several components to consists of finished goods,such as housing, gasket and bolts and nuts with any kinds of sizes. Excepts inspectors, we have several testing machines, like spectrographic analysis instrument, universal testing machine, impact machine and metallographic microscope to ensure the 100% sample selected be tested.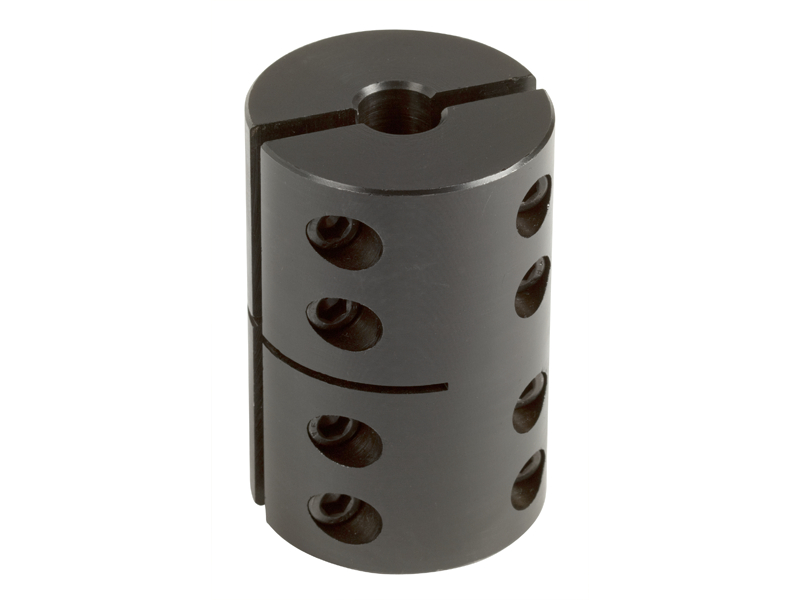 What are the Torque and Speed Limits of Clamp Couplings in Various Applications?
The torque and speed limits of clamp couplings vary depending on their design, material, and application. Generally, clamp couplings are suitable for a wide range of torque and speed requirements in various mechanical systems. Here are some considerations:
Torque Limits:
Clamp couplings can handle a broad range of torque values, making them suitable for low, medium, and high torque applications. The torque capacity is influenced by factors such as the material and size of the coupling, as well as the clamping force applied to the shaft.
It is crucial to select a clamp coupling that can handle the maximum torque generated in the system during operation. Oversizing the coupling ensures it can safely transmit the required torque without reaching its limits, reducing the risk of premature failure.
Speed Limits:
Similar to torque limits, the speed limits of clamp couplings are influenced by their design and material. In high-speed applications, factors like centrifugal forces and resonance become significant considerations.
Clamp couplings made from high-strength materials like stainless steel or alloy steel can handle higher speeds with minimal risk of deformation or failure. Additionally, precision machining and balancing of the coupling help reduce vibration and maintain stability at elevated speeds.
Application-Specific Considerations:
When using clamp couplings in specific applications, factors like shock loads, reversing loads, and misalignment should be accounted for. These dynamic forces can impact the overall performance and durability of the coupling.
It is essential to consult the manufacturer's specifications and guidelines for torque and speed ratings. Additionally, engineering calculations and simulations can help determine the most suitable clamp coupling for a particular application.
Professional Advice:
If you are unsure about the torque and speed limits of clamp couplings for your specific application, it is advisable to seek professional advice from coupling manufacturers or engineering experts. They can provide valuable insights and recommend the most appropriate coupling for your requirements, ensuring reliable and efficient power transmission in your mechanical system.
Use of Clamp Couplings in Horizontal and Vertical Shaft Applications
Yes, clamp couplings can be used in both horizontal and vertical shaft applications. The design of clamp couplings allows them to provide secure and reliable shaft connections in various orientations, making them versatile for different mechanical systems.
Horizontal Shaft Applications: In horizontal shaft applications, clamp couplings are commonly used to connect two shafts in a straight line. They are often employed in conveyor systems, pumps, fans, and other machinery where the shafts are aligned horizontally. The clamping action of the coupling ensures a rigid and balanced connection, transmitting torque efficiently from one shaft to another.
Vertical Shaft Applications: In vertical shaft applications, such as in vertical pumps, mixers, or gearboxes, clamp couplings need to support the weight of the connected components in addition to transmitting torque. The design of clamp couplings with robust clamping screws ensures that the coupling remains securely fastened even in vertical orientations.
Factors to Consider: While clamp couplings are suitable for both horizontal and vertical shaft applications, there are some considerations to keep in mind:
Load and Weight: In vertical shaft applications, the coupling must handle the weight of the rotating components. It is essential to choose a clamp coupling with sufficient load-carrying capacity to support the vertical arrangement.
Alignment: Proper alignment of the shafts is crucial for any coupling, but it becomes particularly important in vertical applications to avoid excessive loads and premature wear.
Material and Environment: Selecting the appropriate material and surface treatment for the clamp coupling is essential, especially if the application involves exposure to harsh environments or corrosive substances.
Overall, clamp couplings are a reliable and cost-effective choice for various shaft applications, and their ability to perform well in both horizontal and vertical orientations makes them widely used in a range of industrial machinery and equipment.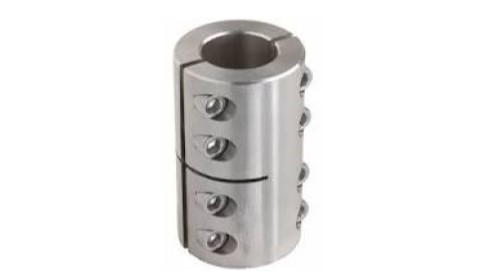 Industry Standards and Certifications for Clamp Couplings
There are several industry standards and certifications that may apply to clamp couplings, depending on their design, materials, and intended applications. These standards ensure that the clamp couplings meet specific requirements and quality benchmarks, providing confidence in their performance and reliability.
Some of the commonly recognized standards and certifications for clamp couplings include:
ISO 9001: This is a quality management system standard that sets requirements for the design, development, production, and service of products. Manufacturers of clamp couplings may obtain ISO 9001 certification to demonstrate their commitment to quality and continuous improvement.
ASME B29.1: This standard is specific to roller chain drives and includes guidelines for chain coupling dimensions and interchangeability.
AGMA 9002-C16: This standard, developed by the American Gear Manufacturers Association, provides guidelines for inspection practices of flexible couplings, which may include clamp couplings.
API 671: This standard is specific to couplings used in petroleum, chemical, and gas industry services. It sets requirements for special-purpose couplings, such as those used in compressors and pumps.
DNV GL Type Approval: The Det Norske Veritas Germanischer Lloyd (DNV GL) provides type approval certification for couplings used in maritime and offshore applications. This certification ensures that the coupling meets specific quality and safety standards for marine use.
ATEX: For couplings used in explosive atmospheres, the ATEX directive sets requirements to prevent ignition sources and ensure safety. ATEX compliance may be necessary in certain industrial settings.
It's important to note that not all clamp couplings require certification under these standards, as the applicability depends on the specific industry and use case. Additionally, some manufacturers may adhere to their own internal quality control measures without seeking external certifications.
When selecting clamp couplings for particular applications, it's essential to consider whether specific industry standards or certifications are necessary. Consulting with suppliers or coupling manufacturers can help ensure that the chosen clamp couplings meet the required quality and safety standards for their intended use.



editor by CX 2023-08-15