Product Description
Bellow Spring Clamp Coupling
Feature
>Metal elastic coupling formed in 1 piece
>Suitable for shaft connection with small torque
>Zero backlash
>Elastic action compensates radial, angular and axial deviations
>Fastening method of clamping screw
Packaging & Delivery
Package:                            Wooden box/Paper carton    
Port:                                    HangZhou/ZheJiang  or as request     
———————————————————————————————————————————————————————————————————————————————–
About Xingda since 1984
HangZhou Melchizedek Import & Export Co., Ltd. is a leader manufactur in mechanism field and punching/stamping field since 1984. Our main product, NMRV worm gear speed reducer and series helical gearbox, XDR,XDF, XDK, XDShave reached the advanced technique index of the congeneric European and Janpanese products, We offer standard gears, sprockets, chains, pulleys, couplings, bushes and so on. We also can accept ordersof  non-standard products, such as gears, shafts, punching parts ect, according to customers' Drawings or samples. 
Our company has complete set of equipment including CNC, lathes, milling machines, gear hobbing machine, gear grinding machine, gear honing machine, gear shaping machine, worm grinder, grinding machines, drilling machines, boringmachines, planer, drawing benches, punches, hydraulic presses, plate shearing machines and so on. We have advanced testing equipments also. 
Our company has established favorable cooperation relationships with sub-suppliers involving casting, raw material, heat treatment, surface finishing and so on.
 
How do Clamp Couplings Contribute to Reducing Backlash and Resonance in Rotating Machinery?
Clamp couplings play a crucial role in reducing backlash and resonance in rotating machinery, enhancing the overall performance and reliability of the system. Here's how they achieve this:
1. Backlash Reduction:
Backlash is the play or clearance between mating components in a mechanical system. In rotating machinery, backlash can lead to lost motion, reduced precision, and inefficiencies. Clamp couplings offer several features that help minimize backlash:
Zero-Backlash Design: Some clamp couplings are designed with a split hub and a clamping mechanism that ensures a tight fit around the shafts. This zero-backlash design eliminates any clearance between the coupling and the shafts, reducing or even eliminating backlash.
High Clamping Force: Clamp couplings exert a strong clamping force on the shafts, ensuring a secure and rigid connection. This prevents any relative movement between the coupling and the shafts, further reducing backlash.
2. Resonance Damping:
Resonance occurs when the natural frequency of a rotating system matches the frequency of external forces or disturbances. This can lead to excessive vibrations and potential damage to the machinery. Clamp couplings can help dampen resonance in the following ways:
Material Selection: High-quality materials like stainless steel or aluminum alloy are commonly used in clamp couplings. These materials possess excellent damping properties, dissipating vibrations and minimizing resonance effects.
Precision Machining: Clamp couplings are precisely machined to maintain balance and reduce vibration during operation. Balanced couplings minimize the likelihood of resonant frequencies being excited, contributing to a smoother operation.
Torsional Stiffness: Clamp couplings offer controlled torsional stiffness, which helps prevent the buildup of excessive vibration amplitudes and reduces resonance occurrences.
3. Misalignment Compensation:
Another factor contributing to backlash and resonance is misalignment between shafts. Clamp couplings can accommodate a certain degree of angular, parallel, and axial misalignments, reducing the impact of misalignment-induced backlash and vibrations.
Overall, clamp couplings provide a secure and precise connection between shafts, minimizing backlash and resonance in rotating machinery. By choosing the appropriate clamp coupling based on the specific requirements of the application, engineers can optimize the performance and efficiency of the rotating system.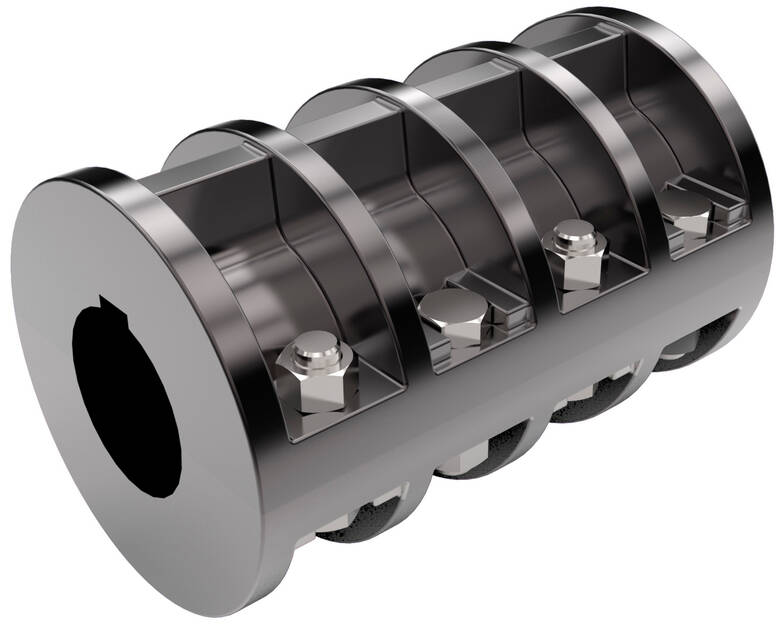 Real-World Case Studies of Clamp Couplings in Engineering Projects
Clamp couplings have been widely used in various engineering projects, showcasing their effectiveness and reliability. Here are some real-world case studies:
Wind Turbine Applications: In the renewable energy sector, wind turbines require efficient power transmission between the rotor and generator. Clamp couplings have been successfully used to connect the shafts, allowing for easy installation, alignment, and maintenance. Their ability to handle high torque and misalignment ensures reliable performance even in harsh environmental conditions.
Industrial Machinery: In heavy machinery and industrial equipment, clamp couplings have proven to be a preferred choice for connecting rotating shafts. A case study involving a large-scale conveyor system in a mining operation demonstrated that clamp couplings provided excellent torque transmission and allowed for quick and straightforward replacement during maintenance.
Marine Propulsion Systems: Clamp couplings are widely used in marine propulsion systems for boats and ships. A case study involving a commercial vessel showed that stainless steel clamp couplings significantly reduced maintenance downtime due to their corrosion resistance and ability to handle dynamic loads, ensuring smooth and reliable operation.
Aerospace Applications: In the aerospace industry, clamp couplings have been employed in critical components such as flight control systems and engine assemblies. A case study involving an aircraft engine demonstrated that clamp couplings provided precise and robust shaft connections, contributing to the overall performance and safety of the aircraft.
Automotive Engineering: In automotive engineering, clamp couplings are used in various drivetrain components. A case study involving an electric vehicle showcased that clamp couplings allowed for compact and lightweight designs, minimizing power losses and enhancing energy efficiency.
Conclusion: These case studies highlight the versatility and reliability of clamp couplings in diverse engineering projects. Whether in renewable energy, heavy machinery, marine, aerospace, or automotive applications, clamp couplings have proven to be an effective solution for connecting rotating shafts, providing efficient power transmission, and reducing maintenance downtime.

Advantages of Using a Clamp Coupling
A clamp coupling offers several advantages compared to other types of couplings, making it a popular choice in various mechanical systems:
Easy Installation: Clamp couplings are simple to install and require minimal tools and expertise. The design allows for quick assembly and disassembly, making maintenance and shaft replacement convenient.
Cost-Effective: With a straightforward design and fewer components, clamp couplings are cost-effective to manufacture and purchase.
High Torque Transmission: Clamp couplings can handle high torque loads, making them suitable for heavy-duty applications in industries like manufacturing, mining, and construction.
Zero Backlash: The clamping mechanism ensures a tight fit between the shafts and the hubs, resulting in zero backlash. This feature is vital for applications that require accurate and precise motion transfer.
Flexibility: Clamp couplings can accommodate different shaft sizes and materials, providing flexibility in system design and shaft compatibility.
Compact Design: The compact and lightweight design of clamp couplings makes them ideal for applications with space constraints.
No Lubrication Needed: Unlike some other couplings, clamp couplings do not require lubrication, reducing maintenance requirements and eliminating the risk of leakage or contamination in certain environments.
High Misalignment Tolerance: Clamp couplings can handle moderate levels of angular, parallel, and axial misalignment, ensuring reliable operation even when shafts are not perfectly aligned.
Reduced Downtime: The ease of installation and maintenance of clamp couplings contributes to reduced downtime during equipment repairs or replacements.
Due to these advantages, clamp couplings are widely used in various industries and mechanical setups for their simplicity, reliability, and cost-effectiveness in transmitting torque and rotational motion between shafts.



editor by CX 2023-08-11