Product Description
| | | | | | | | | |
| --- | --- | --- | --- | --- | --- | --- | --- | --- |
| Item No. | φD | L | L1 | L2 | L3 | S | M | Tighten the strength(N.m) |
| SG7-10-14- | 15 | 20 | 6 | 6 | 3 | 1 | M3 | 1 |
| SG7-10-25- | 26 | 26 | 8 | 8 | 4 | 1 | M4 | 1.5 |
| SG7-10-30- | 32 | 32 | 10 | 9 | 5 | 1.5 | M4 | 1.7 |
| SG7-10-40- | 40 | 50 | 17 | 12 | 8.5 | 2 | M5 | 4 |
| SG7-10-55- | 56 | 58 | 20 | 14 | 10 | 2 | M5 | 4 |
| SG7-10-65- | 66 | 62 | 21 | 15 | 10.5 | 2.5 | M8 | 15 |
| SG7-10-80- | 82 | 86 | 31 | 18 | 15.5 | 3 | M8 | 15 |
| SG7-10-95- | 98 | 94 | 34 | 20 | 17 | 3 | M8 | 15 |
| SG7-10-108- | 108 | 123 | 46 | 24 | 23 | 3.5 | M8 | 15 |
1111111111111111
| | | | | | | | | | |
| --- | --- | --- | --- | --- | --- | --- | --- | --- | --- |
| Item No. | Rated torque | Maximum Torque | Max Speed | Inertia Moment | N.m rad | RRO | Tilting Tolerance | End-play | Weight:(g) |
| SG7-10-14- | 1.1N.m | 2.2N.m | 19000prm | 3.9×10-4kg.m² | 45N.m/rad | 0.02mm | 1.0c | +0.6mm | 20 |
| SG7-10-25- | 6.0N.m | 12N.m | 16000prm | 6.8×10kg.m² | 56N.m/rad | 0.02mm | 1.0c | +0.6mm | 25 |
| SG7-10-30- | 6.5N.m | 13N.m | 15000prm | 8.3×10kg.m² | 70N.m/rad | 0.02mm | 1.0c | +0.6mm | 46 |
| SG7-10-40- | 32N.m | 64N.m | 13000prm | 9.3×10kg.m² | 490N.m/rad | 0.02mm | 1.0c | +0.8mm | 135 |
| SG7-10-55- | 46N.m | 92N.m | 10500prm | 3.8×10-3kg.m² | 1470N.m/rad | 0.02mm | 1.0c | +0.8mm | 300 |
| SG7-10-65- | 109N.m | 218N.m | 8300prm | 8×10kg.m² | 2700N.m/rad | 0.02mm | 1.0c | +0.8mm | 570 |
| SG7-10-80- | 135N.m | 270N.m | 7000prm | 1.5×10-2kg.m² | 3100N.m/rad | 0.02mm | 1.0c | +1.0mm | 910 |
| SG7-10-95- | 260N.m | 520N.m | 6000prm | 1.9×10kg.m² | 4400N.m/rad | 0.02mm | 1.0c | +1.0mm | 1530 |
| SG7-10-108- | 430N.m | 860N.m | 5000prm | 3×10kg.m² | 5700N.m/rad | 0.02mm | 1.0c | +1.0mm | 2200 |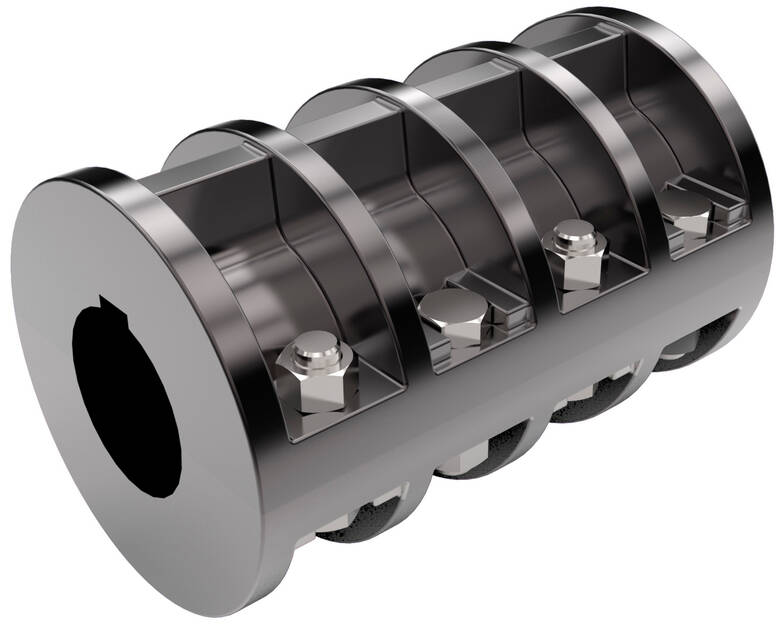 What Industries Commonly Use Clamp Couplings and Why?
Clamp couplings are widely used in various industries due to their versatility, ease of installation, and ability to accommodate different shaft sizes and misalignments. Some of the industries where clamp couplings are commonly used include:
Manufacturing: In manufacturing industries, clamp couplings are commonly employed in conveyor systems, machine tools, and material handling equipment. They provide a reliable and flexible connection between shafts, allowing for smooth power transmission and easy maintenance.
Agriculture: Farm machinery and equipment often use clamp couplings to connect power take-off shafts, ensuring efficient power transfer from the tractor to various implements like mowers, balers, and harvesters.
Food and Beverage: The food and beverage industry requires couplings that are easy to clean and maintain. Stainless steel clamp couplings are commonly used in food processing equipment due to their corrosion resistance and hygienic design.
Packaging: Packaging machinery often uses clamp couplings to connect rotating components, such as rollers and conveyors, ensuring precise and synchronized movement during the packaging process.
Oil and Gas: In the oil and gas industry, clamp couplings are used in various applications, including pumps, compressors, and drilling equipment. Stainless steel clamp couplings are favored in offshore and corrosive environments.
Automotive: In automotive manufacturing, clamp couplings find applications in power transmission systems, steering columns, and drivetrain components.
Marine: The marine industry often employs clamp couplings in propulsion systems and auxiliary machinery, especially when corrosion resistance and reliability are critical.
Pharmaceutical: Pharmaceutical manufacturing equipment requires couplings that meet stringent hygiene standards. Stainless steel clamp couplings are suitable for pharmaceutical applications due to their cleanability and resistance to contamination.
Mining: Mining machinery relies on robust and reliable couplings to withstand heavy loads and harsh operating conditions. Clamp couplings are commonly used in conveyors, crushers, and other mining equipment.
The widespread use of clamp couplings across industries can be attributed to their ability to provide a secure and backlash-free connection between shafts, accommodate misalignment, and handle varying torque and speed requirements. Additionally, their simple design and ease of maintenance make them a popular choice in numerous industrial applications.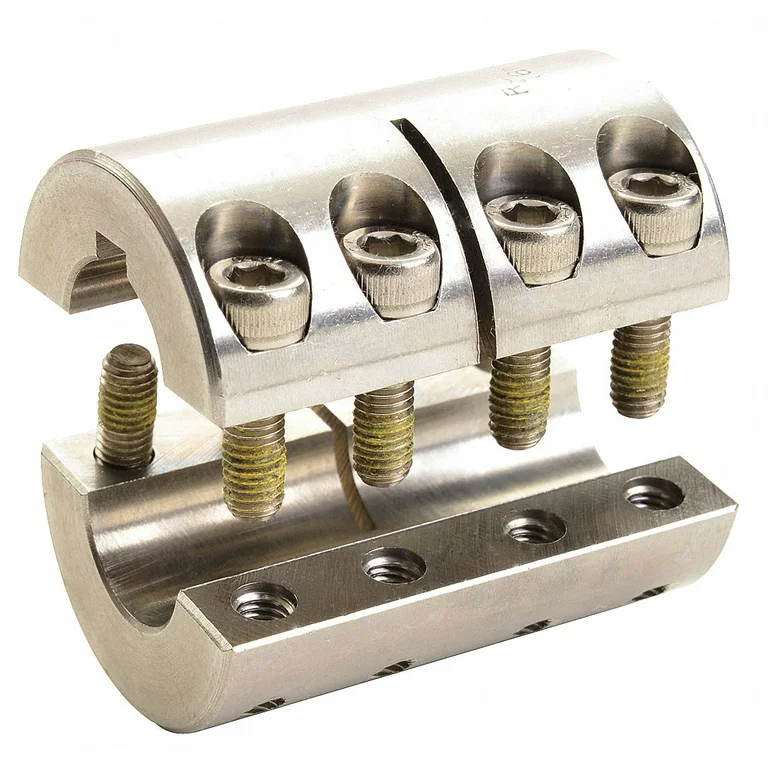 Differences between Clamp Couplings Made from Different Materials
Clamp couplings can be manufactured from various materials, each offering unique characteristics and suitability for different applications. Here are the main differences between clamp couplings made from aluminum, steel, and plastic:
Aluminum Clamp Couplings: Aluminum clamp couplings are lightweight and offer excellent corrosion resistance. They are often used in applications where weight reduction is crucial, such as in aerospace and automotive industries. However, aluminum has lower tensile strength compared to steel, making it less suitable for heavy-duty or high-torque applications.
Steel Clamp Couplings: Steel clamp couplings are known for their strength and durability. They can handle higher torque loads and are well-suited for heavy machinery, industrial equipment, and power transmission applications. Steel couplings are available in various grades, and surface treatments can further enhance their corrosion resistance.
Plastic Clamp Couplings: Plastic clamp couplings are lightweight and cost-effective. They are commonly used in applications where weight is a concern, and the torque requirements are relatively low. Plastic couplings may offer good chemical resistance and electrical insulation properties, but they may not be as durable as metal couplings and are not suitable for high-load or high-temperature applications.
Considerations: When selecting a clamp coupling material, consider the specific requirements of your application:
Load and Torque: Choose a material that can handle the expected load and torque of your application without exceeding the material's limitations.
Environment: Consider the operating environment, including exposure to chemicals, moisture, and temperature fluctuations, to ensure the chosen material can withstand these conditions.
Cost and Weight: Balance the cost-effectiveness and weight-saving benefits of materials like aluminum and plastic against the strength and durability of steel.
Ultimately, the material selection for clamp couplings should be based on the specific demands of the application to ensure optimal performance and longevity.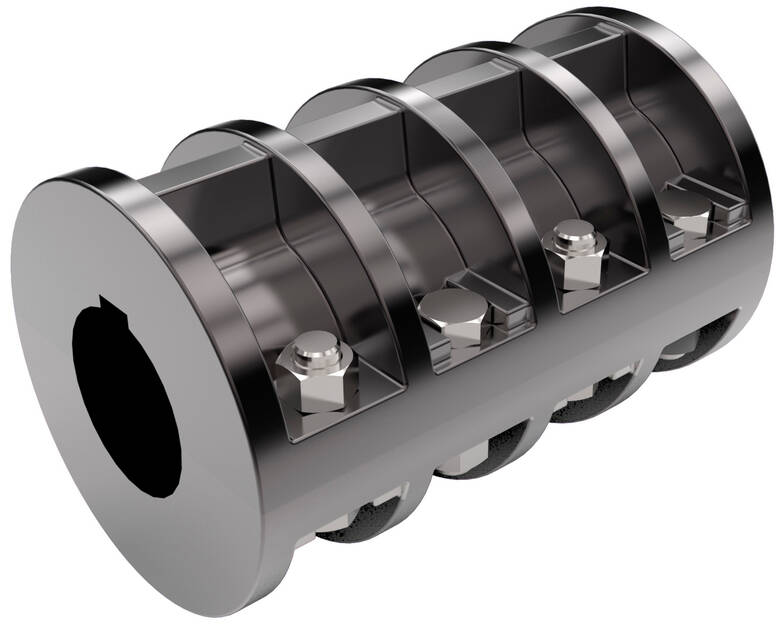 Handling Misalignment with Clamp Couplings
Yes, clamp couplings are designed to handle certain degrees of misalignment between shafts effectively. They can accommodate both angular and parallel misalignments, making them versatile for various mechanical systems.
The design of clamp couplings allows for a certain degree of flexibility and forgiveness in the coupling's connection. When the shafts are not perfectly aligned due to angular or parallel misalignment, the clamp coupling can compensate for these variations.
The main factors contributing to the clamp coupling's ability to handle misalignment are:
Flexible Material: Clamp couplings are often made of materials like aluminum, stainless steel, or other alloys with some elasticity. This flexibility enables them to absorb and compensate for minor misalignments.
Split Design: Clamp couplings usually have a split design with one or more screws or bolts that can be tightened to secure the coupling around the shafts. This design allows for easy installation and adjustment, making it possible to accommodate slight misalignments during assembly.
Tightening Mechanism: The screws or bolts used to fasten the clamp coupling can be tightened to the appropriate torque, providing a secure connection while still allowing for a certain amount of movement to handle misalignment.
However, it's important to note that clamp couplings have limitations when it comes to misalignment. Excessive misalignment can lead to increased wear on the coupling components and shafts, reducing the coupling's lifespan and potentially causing failure. Therefore, it's essential to ensure that the misalignment does not exceed the coupling's specified limits.
For more significant misalignments or applications with constant large misalignments, flexible couplings like elastomeric couplings or gear couplings may be more suitable. It's crucial to select the appropriate coupling type based on the specific misalignment requirements of the mechanical system.
In conclusion, while clamp couplings can handle certain degrees of misalignment effectively, it is essential to stay within the recommended misalignment limits to maintain the coupling's performance and longevity.



editor by CX 2023-10-08