Product Description
High quality concrete pump pipe clamp
Our service………………………………………………………………………………………………………………………………………..
 
High Quality:
ISO9001, CE, CO certifications etc. All components adopt the qualified materials.
100% quality check and durable testing for every product before shipment.
Competitive Price
Large scale production and well trained workers reduce cost greatly,
Ximai use the Bottom Price to make you become the most competitive seller in your region.
One-Stop Shopping
Our major is concrete pump pipe and forged coupling, we also have several partners,
supplying related products so that can meet customers' needs.
Short Lead Time
We have power production capacity, produce 1500 sets couplings and 500pcs pipes every day.
We can have your urgent orders ready in short time.
Standard export package
Our package is in conformity with export requirements.
We ensure it's very safe and firm in the course of shipping.
Customer Service
Top sales with professional skills make you never feel difficult to communicate with a factory,
all Ximai staff will stand by you, reply your inquiry and solve your problem, no matter pre-sales or after-sales.
Production display………………………………………………………………………………………………………………………….
Product for concrete pump spare parts……………………………………………………………………………………………….
Product test……………………………………………………………………………………………………………………………………….
Quality assurance: We hereby confirm to undertake all the losses which caused by our product quality.
Packaging&Shipping……………………………………………………………………………………………………………………………….
Contact us……………………………………………………………………………………………………………………………………………..
FAQ……………………………………………………………………………………………………………………………………………………………….
Q: Are you trading company or manufacturer ?
A: We are a factory.
 
Q: How long is your delivery time?
A: Generally it is 5-10 days if the goods are in stock. or it is 15-20 days if the goods are not in stock, it is according to your quantity.
 
Q: Do you provide samples ? is it free or extra ?
A: Yes, we could offer the sample for free charge but the cost of freight by your side.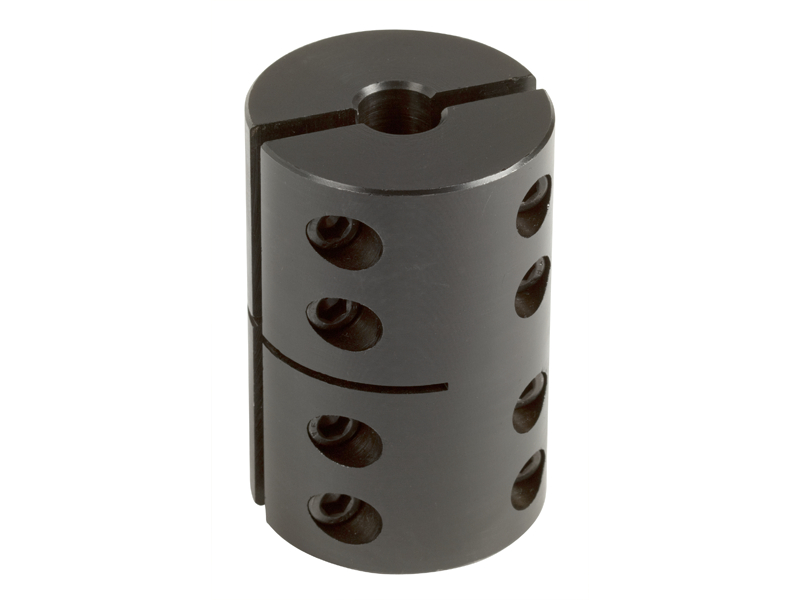 What are the Torque and Speed Limits of Clamp Couplings in Various Applications?
The torque and speed limits of clamp couplings vary depending on their design, material, and application. Generally, clamp couplings are suitable for a wide range of torque and speed requirements in various mechanical systems. Here are some considerations:
Torque Limits:
Clamp couplings can handle a broad range of torque values, making them suitable for low, medium, and high torque applications. The torque capacity is influenced by factors such as the material and size of the coupling, as well as the clamping force applied to the shaft.
It is crucial to select a clamp coupling that can handle the maximum torque generated in the system during operation. Oversizing the coupling ensures it can safely transmit the required torque without reaching its limits, reducing the risk of premature failure.
Speed Limits:
Similar to torque limits, the speed limits of clamp couplings are influenced by their design and material. In high-speed applications, factors like centrifugal forces and resonance become significant considerations.
Clamp couplings made from high-strength materials like stainless steel or alloy steel can handle higher speeds with minimal risk of deformation or failure. Additionally, precision machining and balancing of the coupling help reduce vibration and maintain stability at elevated speeds.
Application-Specific Considerations:
When using clamp couplings in specific applications, factors like shock loads, reversing loads, and misalignment should be accounted for. These dynamic forces can impact the overall performance and durability of the coupling.
It is essential to consult the manufacturer's specifications and guidelines for torque and speed ratings. Additionally, engineering calculations and simulations can help determine the most suitable clamp coupling for a particular application.
Professional Advice:
If you are unsure about the torque and speed limits of clamp couplings for your specific application, it is advisable to seek professional advice from coupling manufacturers or engineering experts. They can provide valuable insights and recommend the most appropriate coupling for your requirements, ensuring reliable and efficient power transmission in your mechanical system.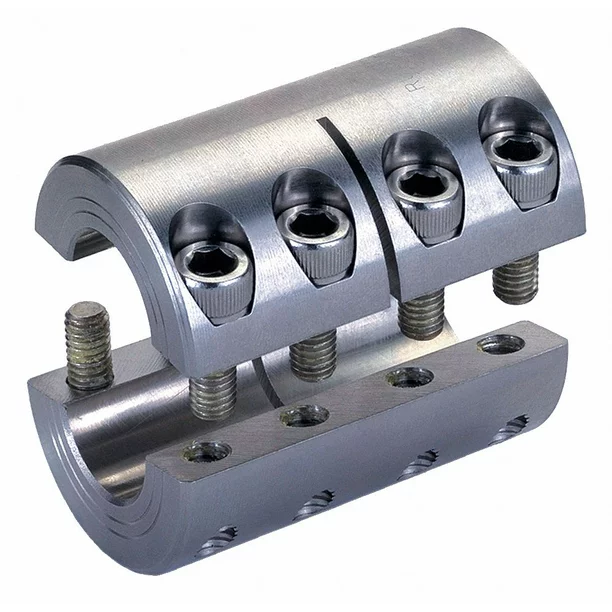 Potential Causes of Failure in Clamp Couplings and Prevention
While clamp couplings are robust and reliable, certain factors can lead to failure if not addressed properly. Here are some potential causes of failure and the corresponding prevention measures:
Insufficient Torque: If the coupling is not tightened to the recommended torque, it may slip or come loose during operation. To prevent this, always follow the manufacturer's torque specifications and use a torque wrench during installation.
Material Fatigue: Repeated load cycles and excessive vibration can lead to material fatigue and eventual failure. Choosing high-quality materials and performing regular inspections can help detect fatigue and replace the coupling before failure occurs.
Corrosion: In corrosive environments, the coupling's material may degrade over time, compromising its strength. Using stainless steel or other corrosion-resistant materials can prevent this issue.
Improper Alignment: Misalignment between shafts can put undue stress on the coupling, leading to premature failure. Properly align the shafts during installation to avoid this problem.
Overloading: Exceeding the maximum torque or speed limits specified by the manufacturer can cause the coupling to fail. Stay within the recommended operating parameters to prevent overloading.
Temperature Extremes: Extreme temperatures can affect the material properties and cause the coupling to become brittle or lose its integrity. Select a coupling rated for the operating temperature range of the application.
Poor Maintenance: Neglecting regular maintenance can lead to undetected wear, damage, or contamination, which may ultimately result in failure. Implement a proactive maintenance schedule and inspect the coupling regularly.
Foreign Object Debris (FOD): Foreign particles or debris caught between the coupling components can lead to uneven loads and wear. Keep the coupling and its surroundings clean to avoid FOD-related issues.
Improper Installation: Incorrectly installing the coupling, such as using incorrect fasteners or not following the manufacturer's guidelines, can compromise its performance and durability. Always refer to the installation instructions and seek professional help if needed.
Environmental Factors: Consider the specific environmental conditions of the application, such as humidity, chemicals, or abrasive substances, and select a coupling that can withstand these conditions.
By understanding and addressing these potential causes of failure, users can ensure the longevity and reliable performance of clamp couplings in their mechanical systems.
What is a Clamp Coupling and How Does it Work?
A clamp coupling is a type of mechanical coupling used to connect two shafts together to transmit torque and rotational motion between them. It is a simple and effective way of joining shafts in various mechanical systems. The main components of a clamp coupling typically include two hubs and a center section.
Working Principle:
The clamp coupling works on the principle of frictional force and mechanical interference fit. Here's how it functions:
Hub Assembly: Each end of the shaft has a hub, which is a cylindrical component with a bored hole that matches the shaft diameter. The hubs may have keyways or splines to provide additional torque transmission.
Center Section: The center section of the coupling sits between the two hubs. It is often a split cylindrical sleeve with threaded holes on its outer surface.
Clamping: To assemble the clamp coupling, the two hubs are placed on the respective shafts, and the center section is inserted between them. Then, bolts are inserted through the holes in the hubs and screwed into the threaded holes of the center section. As the bolts are tightened, the center section is drawn inward, creating a compressive force on the shafts and the hubs, thus firmly holding them together.
Frictional Connection: The clamping force between the center section and the shafts creates a frictional connection. This frictional force allows the coupling to transmit torque and rotational motion from one shaft to the other.
Advantages:
Clamp couplings offer several advantages:
Easy and quick installation, requiring minimal tools and no special skills.
Simple design and cost-effective manufacturing.
High torque transmission capacity, making them suitable for various industrial applications.
Zero backlash, ensuring accurate and precise motion transfer.
Can accommodate different shaft sizes and materials, providing flexibility in design.
Applications:
Clamp couplings find application in a wide range of industries and mechanical systems, including:
Power transmission in industrial machinery and equipment.
Robotics and automation systems.
Printing and packaging machines.
Material handling equipment.
Pumps and compressors.
Conveyor systems.
Overall, clamp couplings are a reliable and versatile solution for connecting rotating shafts and transferring power in various mechanical setups.



editor by CX 2023-08-07