Product Description
Stainless Steel Sanitary Clamp Hose Coupling (DY-C045)
Standard: DIN, SMS, ISO, IDF, RJT
Material: 304, 316L (DIN 1.4301, 1.4304)  Forging  
Surface Finish: Ra 1.6 μm, Ra 0.8 μm, Ra 0.4 μm(polished)
Flux domination of pipeline: DN10-300&1/2″-12″, applied to the stainless steel pipeline system
Medium: Beer, Dairy, Beverage, Pharmacy
Application
Range:It mainly used in the field of dairy products,wine,in western medicine,tea drinks,soy products, chemical products, seasoning, cold, biological engineering, water processing engineering, juice drinks, food, high purity gas etc.
Technical Parameter
| | |
| --- | --- |
| Specifictaion | DN25-DN100 ,1″- 4″ |
| Standard Available | ISO,IDF,DIN, 3A ,SMS |
| Material Quality | SUS304,SUS316L |
| Connection Available | Clamping,Threading,Welding |
| Seal Material | EPDM,SIlicone,Telflon,PTFE,Viton,NBR |
| Internal Surface Treatment | Ra<0.8um-1.6um |
| External Surface Treatment | Ra<0.8um-1.6um |
| Temperature Range | -73.3 Celsuis Degree-204.4 Celsuis Degree |
| Pressure Range | 0-10bar,0MPA-1.0MPA |
| Media  | Water,oil,gas and some corrosive liquids |
| Product features | Beautiful appearance, smooth surface, acid and alkali resistance, anti – corrosion, texture and performance |
Simple Introduction:Equipped with braided hose,hose connector three, also hose link, health grade hose platinum sulfide,Polyester braided. Good stability of the platinum vulcanized silicone rubber hose for pharmaceutical, Bio Medical, cosmetic, and food processing applications. Polyester yarn woven in the sanitary grade hose wall reinforced hose under pressure, LKE00630 woven reinforced silicone tube after a lot of physical, chemical and biological testing, Class VI FDA, CFR USP 177.2600, ISO 1571,  European Pharmacopoeia 3.1.9 and 3A standards.
Note:manufacturing process can be in accordance with the different finish, materials and industrial standards, with a simple structure, beautiful shape, easy disassembly, flexible operation, fluid resistance is small, the use of safe and reliable.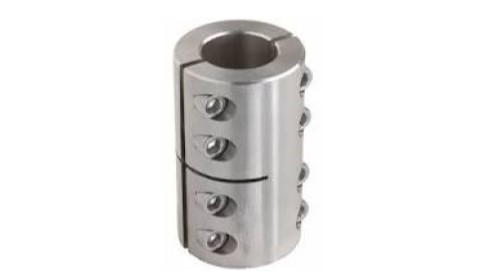 Are There Any Safety Considerations When Using Clamp Couplings in Specific Applications?
While clamp couplings are generally considered safe and reliable, there are specific safety considerations to keep in mind when using them in various applications:
Proper Installation: Ensuring the clamp coupling is installed correctly is crucial for its safe operation. Follow the manufacturer's guidelines and torque specifications during installation to prevent coupling failure.
Maintenance: Regular maintenance is essential to identify wear, corrosion, or damage that could compromise the coupling's integrity. Replace worn or damaged parts promptly to prevent unexpected failures.
Temperature and Environment: Consider the operating temperature and environmental conditions of the application. In high-temperature or corrosive environments, choose materials like stainless steel that can withstand such conditions without compromising safety.
Alignment: Misalignment between shafts can lead to premature wear and coupling failure. Ensure the shafts are properly aligned to prevent excessive stress on the coupling.
Overloading: Avoid exceeding the torque and speed limits specified by the manufacturer. Overloading the coupling can lead to premature failure and safety hazards.
Dynamic Balancing: In rotating machinery, ensure that components are dynamically balanced to reduce vibrations that could affect the coupling's performance and cause fatigue failure.
Periodic Inspection: Regularly inspect the clamp coupling and surrounding components for signs of wear, fatigue, or damage. Address any issues promptly to prevent unexpected failures.
Application-Specific Considerations: Consider the specific requirements of the application. For example, in food processing, choose couplings that meet hygienic standards, while in explosive environments, consider couplings with anti-spark features.
Training and Awareness: Ensure that personnel working with clamp couplings are adequately trained and aware of safety guidelines to handle the equipment properly.
By adhering to these safety considerations and taking appropriate precautions, clamp couplings can be used safely and effectively in various applications, contributing to the reliability and efficiency of mechanical systems.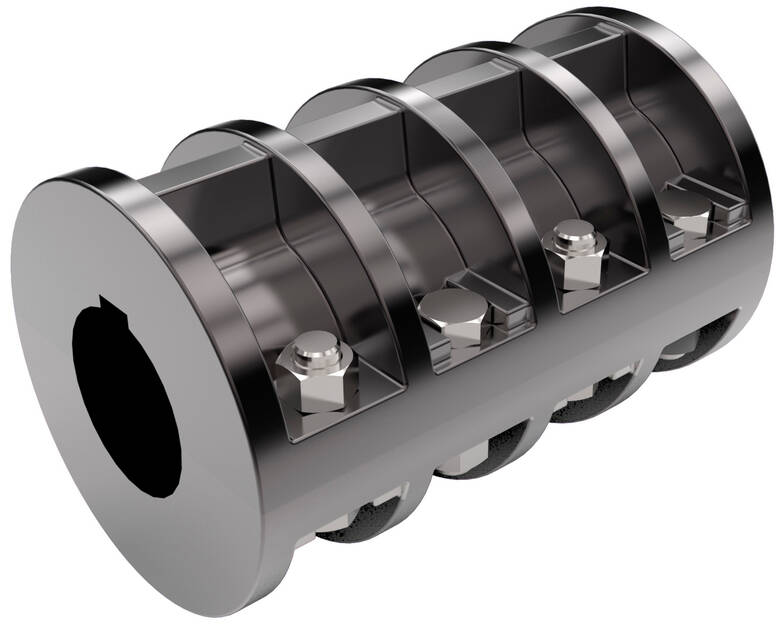 Real-World Case Studies of Clamp Couplings in Engineering Projects
Clamp couplings have been widely used in various engineering projects, showcasing their effectiveness and reliability. Here are some real-world case studies:
Wind Turbine Applications: In the renewable energy sector, wind turbines require efficient power transmission between the rotor and generator. Clamp couplings have been successfully used to connect the shafts, allowing for easy installation, alignment, and maintenance. Their ability to handle high torque and misalignment ensures reliable performance even in harsh environmental conditions.
Industrial Machinery: In heavy machinery and industrial equipment, clamp couplings have proven to be a preferred choice for connecting rotating shafts. A case study involving a large-scale conveyor system in a mining operation demonstrated that clamp couplings provided excellent torque transmission and allowed for quick and straightforward replacement during maintenance.
Marine Propulsion Systems: Clamp couplings are widely used in marine propulsion systems for boats and ships. A case study involving a commercial vessel showed that stainless steel clamp couplings significantly reduced maintenance downtime due to their corrosion resistance and ability to handle dynamic loads, ensuring smooth and reliable operation.
Aerospace Applications: In the aerospace industry, clamp couplings have been employed in critical components such as flight control systems and engine assemblies. A case study involving an aircraft engine demonstrated that clamp couplings provided precise and robust shaft connections, contributing to the overall performance and safety of the aircraft.
Automotive Engineering: In automotive engineering, clamp couplings are used in various drivetrain components. A case study involving an electric vehicle showcased that clamp couplings allowed for compact and lightweight designs, minimizing power losses and enhancing energy efficiency.
Conclusion: These case studies highlight the versatility and reliability of clamp couplings in diverse engineering projects. Whether in renewable energy, heavy machinery, marine, aerospace, or automotive applications, clamp couplings have proven to be an effective solution for connecting rotating shafts, providing efficient power transmission, and reducing maintenance downtime.
What is a Clamp Coupling and How Does it Work?
A clamp coupling is a type of mechanical coupling used to connect two shafts together to transmit torque and rotational motion between them. It is a simple and effective way of joining shafts in various mechanical systems. The main components of a clamp coupling typically include two hubs and a center section.
Working Principle:
The clamp coupling works on the principle of frictional force and mechanical interference fit. Here's how it functions:
Hub Assembly: Each end of the shaft has a hub, which is a cylindrical component with a bored hole that matches the shaft diameter. The hubs may have keyways or splines to provide additional torque transmission.
Center Section: The center section of the coupling sits between the two hubs. It is often a split cylindrical sleeve with threaded holes on its outer surface.
Clamping: To assemble the clamp coupling, the two hubs are placed on the respective shafts, and the center section is inserted between them. Then, bolts are inserted through the holes in the hubs and screwed into the threaded holes of the center section. As the bolts are tightened, the center section is drawn inward, creating a compressive force on the shafts and the hubs, thus firmly holding them together.
Frictional Connection: The clamping force between the center section and the shafts creates a frictional connection. This frictional force allows the coupling to transmit torque and rotational motion from one shaft to the other.
Advantages:
Clamp couplings offer several advantages:
Easy and quick installation, requiring minimal tools and no special skills.
Simple design and cost-effective manufacturing.
High torque transmission capacity, making them suitable for various industrial applications.
Zero backlash, ensuring accurate and precise motion transfer.
Can accommodate different shaft sizes and materials, providing flexibility in design.
Applications:
Clamp couplings find application in a wide range of industries and mechanical systems, including:
Power transmission in industrial machinery and equipment.
Robotics and automation systems.
Printing and packaging machines.
Material handling equipment.
Pumps and compressors.
Conveyor systems.
Overall, clamp couplings are a reliable and versatile solution for connecting rotating shafts and transferring power in various mechanical setups.



editor by CX 2023-10-19